August 6 Zodiac Personality
As an August 6 zodiac, you have a way with words and you are able to convince people to think in the same way that you do. You support your words with facts. This makes it easier to persuade them. Achieving financial security is very important to you. Leo people are practical as they prepare for their futures.
Being born on August 6 means that you are a Leo who possesses numerous creative talents. You are quite gifted and have a vivid creative imagination. You are a calm and cautious person. Also, you have a tendency to have a brilliant business mind.
People born on August 6 are known to be gracious and spiritual. You make sacrifices where need be. For a Leo born on August 6, the family is on the top of important things for you. You can deliberate with anybody on many topics. You are beautiful and you are a head turner without even putting much effort.
Career
The August 6 birthdate astrology analysis shows that you have a flair for drama. You would make a brilliant actor or actress. When it comes to entertaining, you always have you a game on. Being a planner of some sort could also be a perfect profession for you, Leo.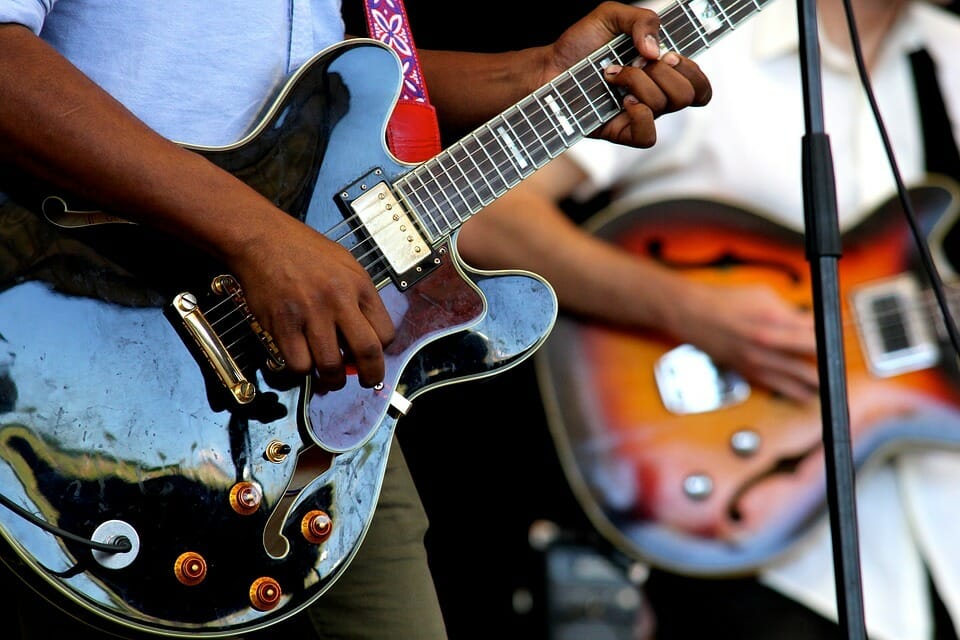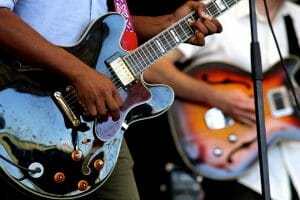 You tend to think of other people and you show concern so it's not all about you at times. This is the kind of attitude and quality that might get you elected for some political position. Who knows? You might be the next elected mayor. The bottom line is you can be whoever you want to be and you can do anything that you set your mind to doing. You are a lion and roaming freely is your nature.
The horoscope analysis reports for a Leo born on this August 6 predict that you take so much pride in whichever work. Others really appreciate that. The August 6 characteristics suggest that you are gifted with the ability to make those around you feel special. By doing this, your loved ones hence are inclined to returning the favor. As a leader, however, you can be authoritative and dominant with the typical lion temper which is sometimes explosive.
Money
Leos are great with money. They are hard workers, so they are really broke. Their only real money problem is that they tend to love extravagant items. Because of this, they spend more than they have at times. It would be wise for Leos to avoid credit cards or anything else that lets them spend above their means.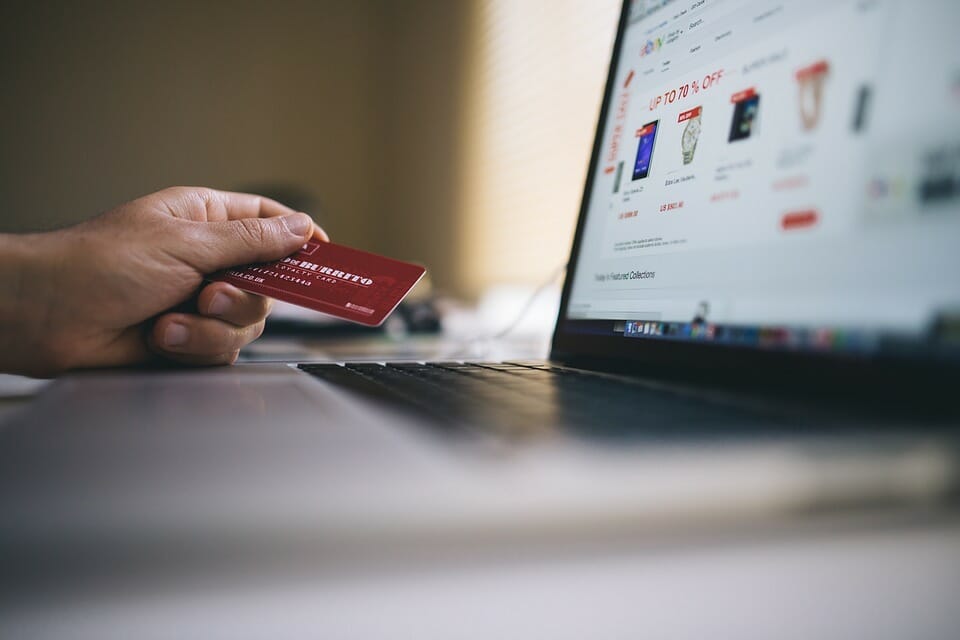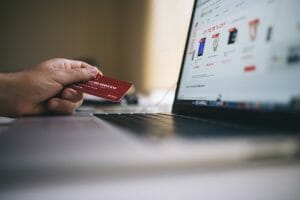 Romantic Relationships
An August 6 birthday person when in love will definitely find a lot of joy in a romantic relationship. This is based on mutual respect. Leo born zodiacs are inclined to pampering their partners with very expensive gifts, fine dining. and wining and even limo rides. Who doesn't want to walk down the red carpet? That's something a Leo born on August 6 loves.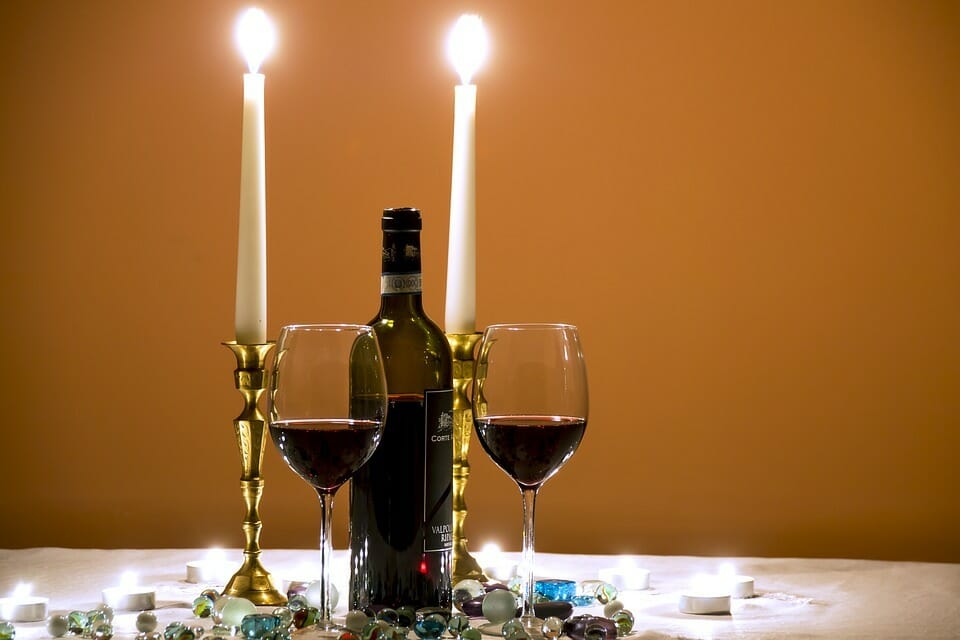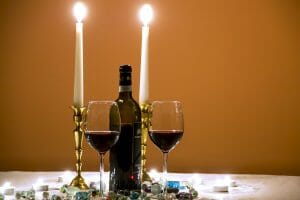 At times, you make a list of people that have an extravaganza invite. You find this fun and entertaining. If you finally find a partner who shares this kind of lifestyle, it is an added pleasure. You are ready to take over the world. As a negative thing though, telling it as it is, you can be self-absorbed. You seem to think that the world revolves around you and you are most happy when all eyes are on you. When you are not, however, you get really upset.
Platonic Relationships
You tend to be able to make friends easily no matter what age sets they are as wisdom is what matters to you. You have been gifted with a lot of that. Having friends or colleagues who are younger than you ensure that you are always up to date and youthful. It's not a surprise that you are always the one telling your peers about the latest apps or gossip in town.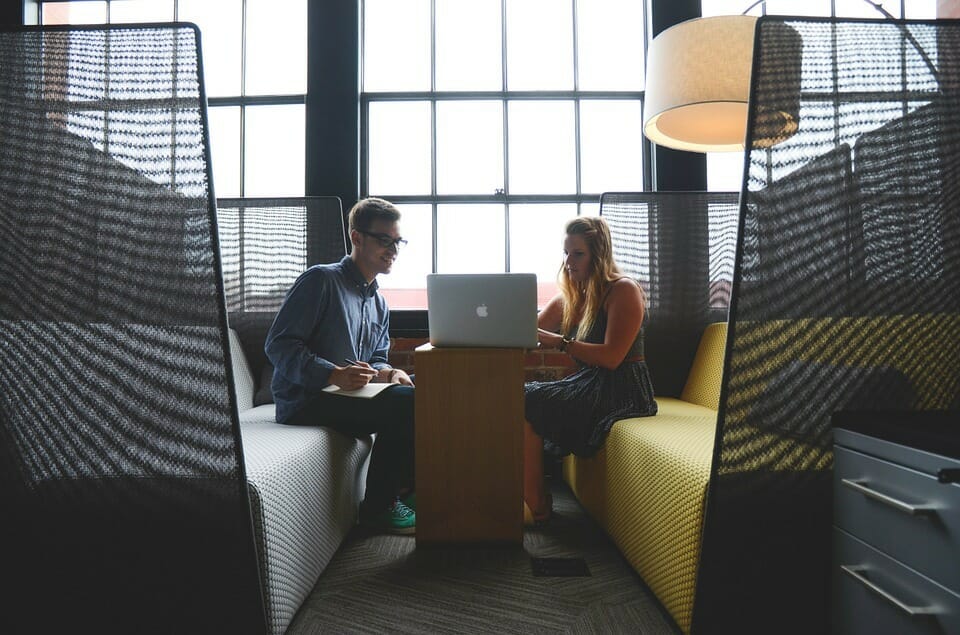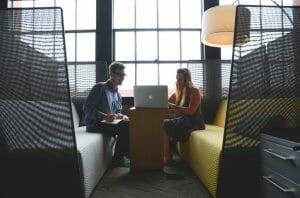 As an August 6 zodiac, when it comes to your friends, you are the loudest when having heated debates and discussions. You tend to understand what those you love are going through. You always have many solutions for their situations. Your advice comes highly recommended as you are the leader of the pack.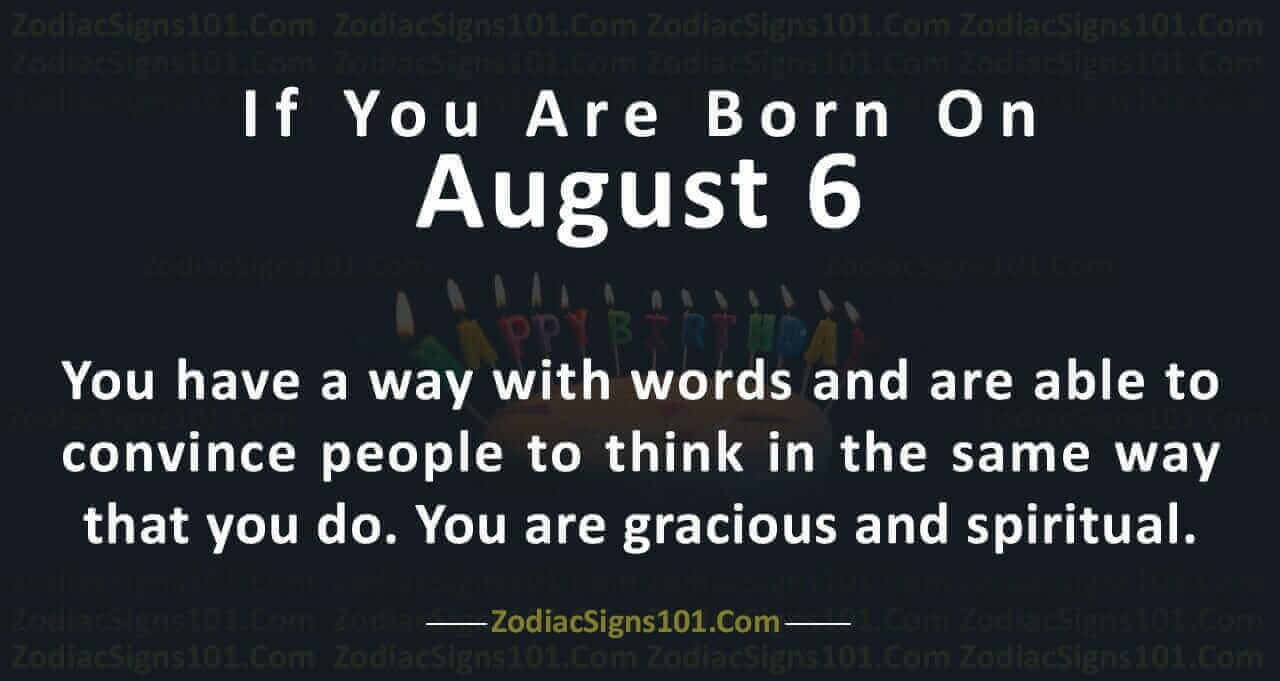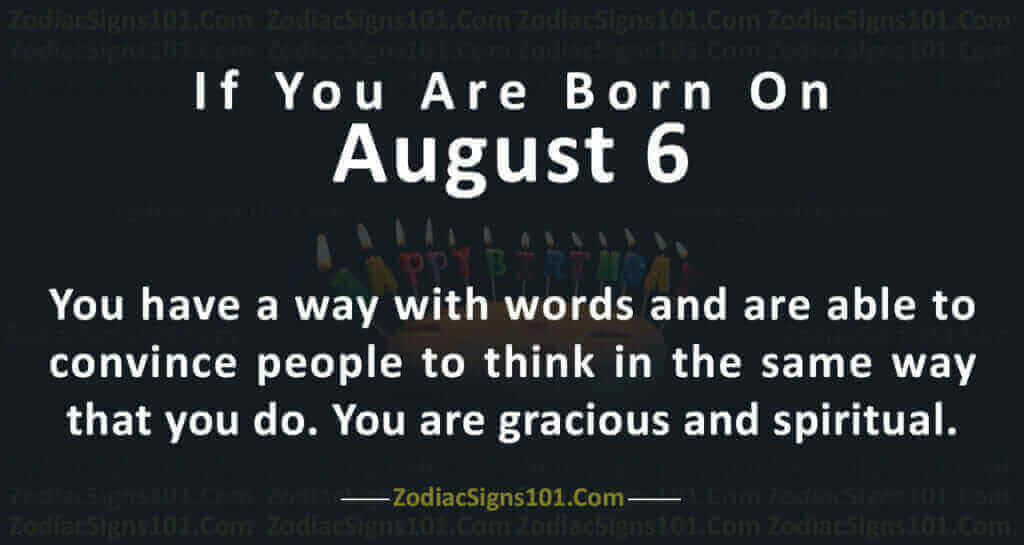 Family
The meanings of the day you were born to show that you are an orator with the capacity to speak effectively and clearly so that your point is put across without misunderstandings. You really love spending time with your family and friends, especially during reunions and gatherings. You seem to glow and have that special twinkle in your eyes when they are around.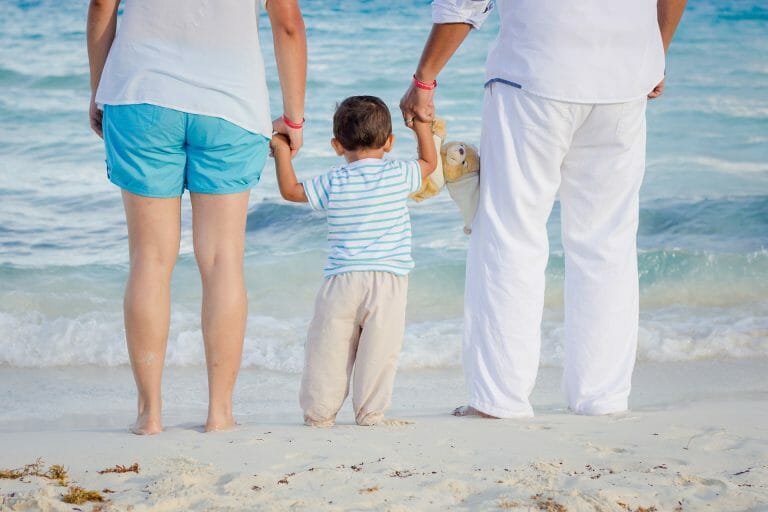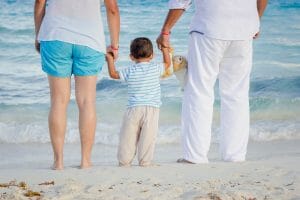 Health
Leo people have average health. They tend to be more concerned with their looks than their actual health. This works out well, though. Because of this, your diet tends to be healthy and you exercise on a semi-regular basis. It's best to not be totally focused on looks. However, if it motivates you to exercise, then that's great!
August 6 Zodiac Personality Traits
As an August 6 baby, restrictions don't work well with you. At times have very detrimental effects. A position as a manager suits you very well as you are able to share and implement more of your talents and ideas as a leader. You are Leo the lion if you were born on this August 6. A lion loves all the paparazzi attention and so do you. But don't worry, you totally deserve it. You make those around you feel the same so we can say that it's only fair.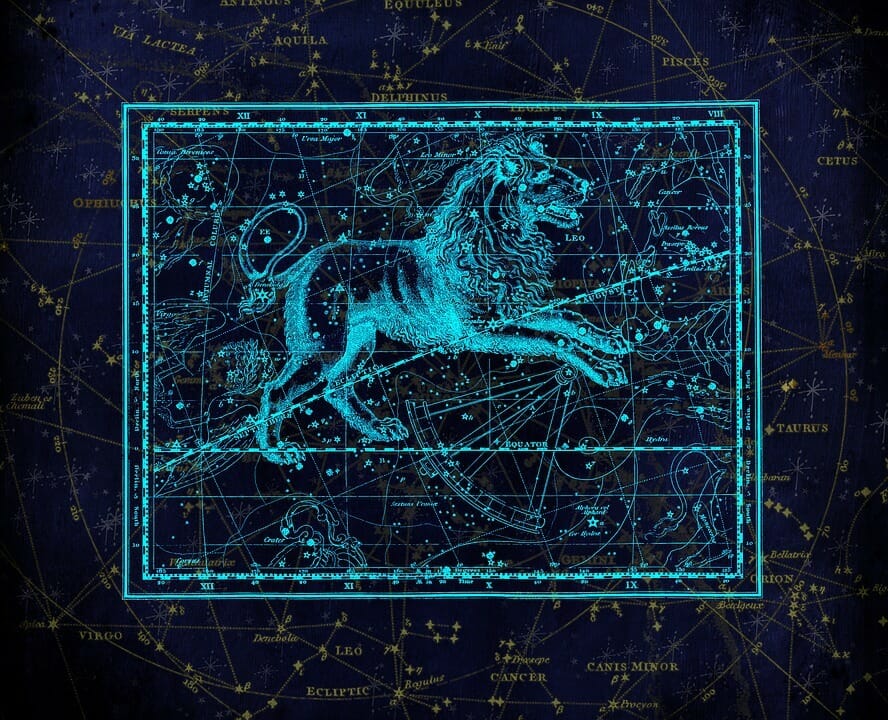 Being born on the 6th August makes you a sympathetic person. You put your friends and their needs first before your own interests. This makes you a lovable friend. You make it easier by always offering a listening ear and a comforting shoulder to all who approach you. You value the people in your inner circle and your companion will consider themselves very lucky to have you.
August 6 Zodiac Symbolism
The tarot card for those born on August 6 is the Lovers. This tarot card shows that your odds in relationships, either sexual or not, are more inclined to success than vulnerability.
The dominant star on this day is the sun that make you responsible for bringing life among your friends and peers through your vibrant presence and character. The lucky number for you is six. It symbolizes intuition, responsibility, charisma, dedication, and organization. Six is associated with quick temperance.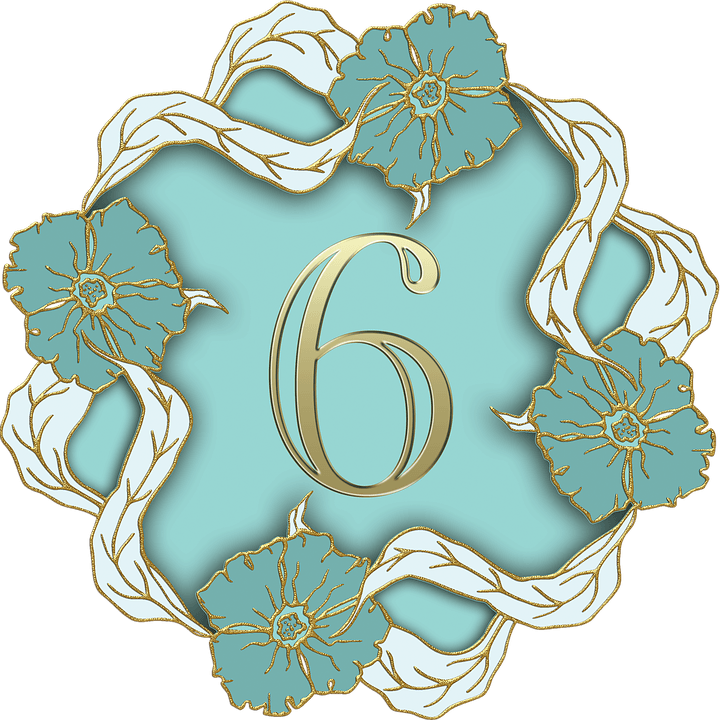 Your lucky colors are light green and red. Light green represents tranquility, readiness, success, and transparency. The color red symbolizes warmth, memory, good health, steadiness, and harmony. Your lucky day is Thursday which a day to be with family and also solid foundation in a new beginning, be it relationships, business deals or careerwise. The lucky gemstone for Leos born on this day is the ruby. It symbolizes wisdom, wealth wits, better decision-making skills, inquisitiveness, and good health.
August 6 Zodiac Conclusion
The ideal gift for people born on this day is a silver ashtray for a Leo man and a ruby studded necklace for a Leo woman. This Leo is definitely going to have an awesome day. You are a lovely human being. We can say that you are the full package wrapped into one. You are a darling too many and karma is on your side. Success is your destiny. Keep believing in yourself and your abilities and everything will work out in your favor.